JVP rules out poll pact with JHU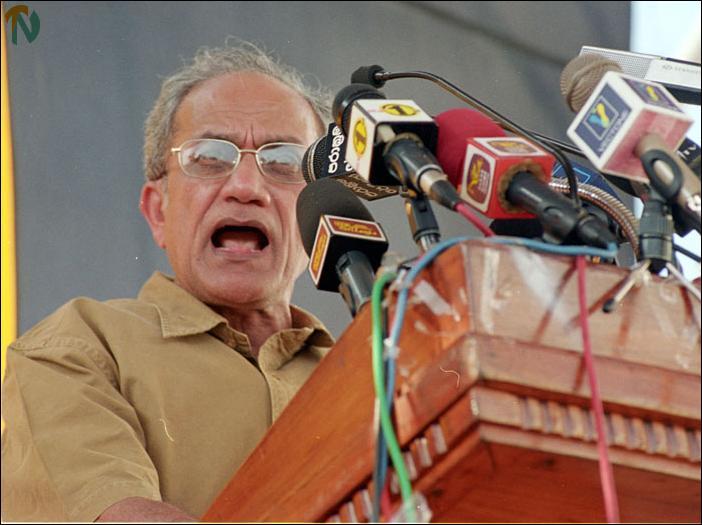 Before P-TOMS
After P-TOMS
JVP rules out poll pact with JHU
By Sassanka Samarakkody
COLOMBO: The Janatha Vimukthi Peramuna (JVP) has ruled out a possible alliance with the Jathika Hela Urumaya (JHU), saying that the JHU did not stand for democracy or respect the rights of minorities.
In an interview published in a local newspaper yesterday, JVP leader Somawansa Amarasinghe said, however, talks with at least five Muslim political groups and another party functioning in the south are in progress, with the aim of forming a broad alliance to contest a general election.
"We have to prepare for a general election soon," he said, revealing that several parliamentarians of the Sri Lanka Freedom Party (SLFP) and the United National Party (UNP) had also expressed dissatisfaction with the Alliance government.
However, he neither denied nor confirmed that the National Unity Alliance (NUA) and the Mahajana Eksath Peramuna (MEP), which are both constituent parties of the Alliance government, were among those negotiating with the JVP.
Instead, he said: "Let's see later." "We haven't had any discussions with the JHU," he added. "Let it (JHU) work alone. We don't think it's possible for us to work with the JHU. They are talking about a state which is not democratic and not respecting the rights of minorities. There are a lot of disagreements between us," Amarasinghe said.
The JVP leader says that it does not matter whether the presidential elections are held in 2005 or 2006. "It is to be decided by the commissioner of election. Whether we mind it or not, we will have to listen to him."