Lanka minister quits
Agencies
@ The Statesman
COLOMBO, June 7 2005 — The Sri Lankan media minister, Mr Mangala Samaraweera, resigned today amid a deepening rift within the coalition government over President Ms Chandrika Kumaratunga's plans to enter into an aid sharing deal with the LTTE.
Mr Samaraweera, once a staunch ally of Ms Kumaratunga, quit his position as media minister but will continue to hold other portfolio of ports and aviation, an official said. "He has cited personal reasons for the decisions. He gave the letter last night and it has been accepted," the official added.
The minister was a key figure who engineered the coalition that went on to narrowly win the April 2004 parliamentary elections with the support of the People's Liberation Front (JVP). The party is threatening to quit the government over Ms Kumaratunga's plans to enter into an aid sharing deal with the LTTE.
According to the deal, the government and the rebels would be partners for the first time to deliver foreign tsunami aid in Sri Lanka's Tamil-majority north and east, parts of which are under the LTTE's control.
Monks angry
Meanwhile, a powerful body of Buddhist monks today said Ms Kumaratunga's political career would be finished if she refuses to shelve the aid sharing plan.
Sri Lanka's influential Buddhist monks vowed to end President Chandrika Kumaratunga's political career if she enters into an aid-sharing deal with Tamil rebels, amid fears for her shaky coalition.(AFP/File/Sena Vidanagama)
The monk-led National Bikku Front wields tremendous influence over politics and society on the island. Since Sri Lanka's independence from Britain in 1948, the monks have scuttled several government efforts to accommodate the mostly Hindu Tamils in the country's north and east who have sought power-sharing arrangements.
"If the deal is signed, it would be the end of the President's political career," said Kalaweleegala Chandraloka, secretary of the National Bikku Front.
The monks as well as the the President's main coalition partner, the JVP, say the tsunami aid-distribution proposal threatens the sovereignty of the country, because such a deal would help the LTTE achieve their goal of establishing a separate state.
Ms Kumaratunga has vowed to press ahead with the plan, however, saying it would encourage the rebels to resume stalled peace talks.
Tigers growl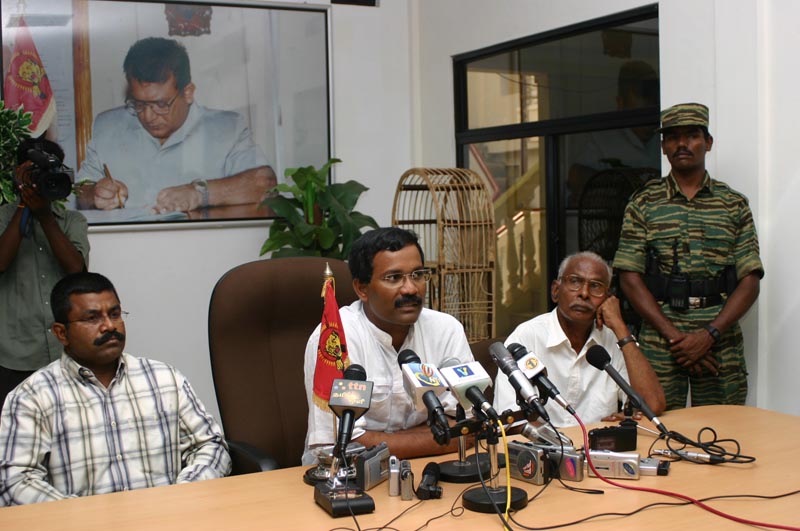 The LTTE's political chief has denounced the government's delay in signing the deal, and said a fragile cease-fire signed after nearly two-decades of civil war was in jeopardy.
The truce was "under serious threat by actions and inactions of the Sri Lankan government," said SP Thamilselvan, according to a rebel website.
Norway's ambassador Mr Hans Brattskar, whose country is also helping broker peace on the island, today held talks with Thamilselvan in the northern rebel capital of Kilinochchi over the aid proposal.