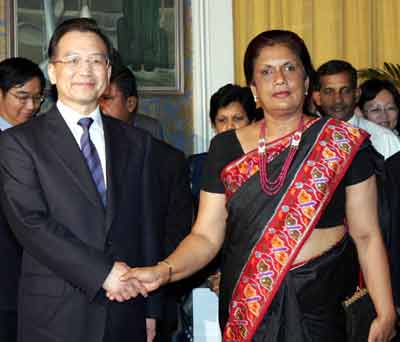 China, Sri Lanka set up all-round cooperative partnership
Sri Lanka supports "one-China policy"
Updated: 2005-04-09 06:26
@ China Daily / AFP / AP
Visiting Premier Wen Jiabao proposed on Friday to upgrade Sino-Sri Lankan relations to an all-round co-operative partnership.
In his talks with President Chandrika Bandaranaike Kumaratunga on Friday night, Wen also pledged that China would donate another US$8.7 million to the tsunami-afflicted country following earlier aid to the island nation.
In the spirit of "being a good neighbour and a good partner," China has always cherished the friendly relations with Sri Lanka, Wen told the president.
To promote their relationship to an all-round co-operative partnership, the two countries should continue expanding exchanges between governments, parliaments, parties as well as among young people, he said.
Apart from bolstering economic and trade links, the two sides should tap potential in areas including agriculture, fisheries and tourism, the premier proposed.
Kumaratunga echoed his words by saying the Chinese premier's proposals were "constructive and practical," which will give a great boost to bilateral rapport.
The president reiterated her country's one-China position, adding that Sri Lanka backed China's efforts in safeguarding its territory integrity, and supported the Anti-Secession Law China's National People's Congress passed in mid-March.
She said Sri Lankan people were deeply moved by the timely contributions Chinese people - including children and students - made to her country following the December 26 tsunami.
China was among the first countries to respond to Sri Lanka's call for assistance after the disaster.
Colombo has received donor pledges amounting to US$2 billion as tsunami assistance following the December 26 catastrophe, 37 per cent of which has materialized so far, according to Sri Lanka Government sources.
China has already committed US$19 million to the reconstruction of six fishery harbours, said Zhu Yuguang, an official with China Harbour Engineering Co.
"China's Ministry of Civil Affairs and the Red Cross Society will contribute another US$8.7 million to Sri Lanka," Wen said.
A developing country itself, aid from China is limited in volume, but the friendly feelings Chinese people harbour towards Sri Lanka are sincere, he said, adding he hoped the assistance will help Sri Lanka with its rebuilding efforts.
Wen expressed appreciation for the adherence of Sri Lanka on the Taiwan issue, saying China supports the efforts of Sri Lanka on safeguarding its national unity, national dignity and territorial integrity, welcomes Sri Lanka to play a more active role in the regional and international issues.
Following the talks, the two sides signed six accords on bilateral economic and trade relations, agriculture and debt relief, according to Chinese Foreign Ministry spokesman Kong Quan.
Chinese Prime Minister Wen Jiabao toured the tsunami-battered town of Panadura where a Chinese company is building a fisheries harbour, officials said.
@AFP
Chinese Prime Minister Wen Jiabao waving to people during his visit to the tsunami-battered town of Panadura in Sri Lanka(AFP/Sena Vidanagama)
Colombo is to open direct flights to Beijing on June 17 and the official Ceylon Tourist Board hopes the number of Chinese tourists visiting the island will jump to 30,000 this year, up from 9,088 last year.
Finance ministry officials said China was also keen to enter Sri Lanka's infrastructure development and had shown interest in the energy and highways sectors as well as fisheries and transport.
@AP
China's Foreign Minister Li Zhaoxing reacts towards a Sri Lankan boy waiting to welcome him with a garland at the Bandaranaike Center for International Studies during the ceremonial opening of the building in Colombo, Sri Lanka, Saturday, April 9, 2005. Chinese Prime Minister Wen Jiabao while visiting affected families on the islands west coast said that China will use US$ 15 million (euro 1.16 million) to rebuild six out of the 10 fisheries harbors destroyed by the tsunami. Wen is in Sri Lanka with Li and others on a two-day official visit. (AP Photo/Gemunu Amarasinghe)